Trained In The Ways Of Men
---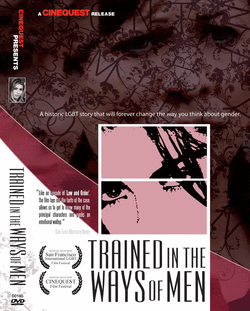 Synopsis
In October 2002, her picture appeared to the nation, from CNN to the New York Times, her sultry eyes seeming to tease us to discover who she is. "Please don't. I have a family..." were her last words. This film follows the real life drama of the case that attracted famous attorneys, spawned a made-for-TV movie, compelled almost 1000 people to attend Gwen Araujo's memorial service, and thousands more to march in the streets demanding justice.

When four men discover that 17 year old Gwen Araujo, the girl with which they had been intimate was biologically male, they beat and strangled her to death. Unable to contain their secret, they are arrested for the murder 2 weeks later. They claim they acted in the heat of passion, provoked by what they see as Gwen's deceit. They ask for a verdict of manslaughter which could reduce the sentence to as little as four years. The prosecutor demands 1st degree murder. As we uncover more about Gwen, the film also explores the provocative complexities of gender identity - what does it mean to be a man or a woman? How do we react when our expectations are violated?
IMDB https://pro-labs.imdb.com/title/tt0982942/

About
Produced and Directed by Michelle Prevost, the feature length documentary follows the trial of the four men convicted of murdering Gwen Araujo. Includes interviews with Sylvia Guerrero, Gwen's mother, and Tony Serra, defense attorney, and explores gender issues in the media and society.

---
Reviews
By Bruce Newman ( San Jose Mercury News )
"TRAINED IN THE WAYS OF MEN'' The irony hidden in the title of Shelly Prevost's methodical documentary about the murder of Gwen Araujo -- a transgender 17-year-old from Newark, born Eddie -- is that it refers as much to the four men accused of beating her to death as it does to the gender-identity questions Araujo confronted. The defendants, several of whom had had sex with the young woman they knew as Lida, nearly were acquitted before a deadlocked jury resulted in a mistrial the first time the case was tried, and the film follows the story's twists and turns both inside and out of the courtroom.
This case is well-known locally, but the tenderness with which ``Eddie's'' mother, Sylvia Guerrero, tells of his transformation from male to female brings the human tragedy into sharper focus than the headlines generated by the trial. Prevost followed the case for so long that a couple of people's appearances change dramatically -- but without explanation -- from one interview to the next, and it's obvious Prevost didn't have a lot of money to lavish on production values. But like an episode of ``Law and Order,'' the film lays out the facts of the case, allows us to get to know many of the principal characters and packs an emotional wallop. For all those reasons, this is sure to be one of the festival's highlights.
"...packs an emotional wallop"Variety
Trained in the Ways of Men (Doc)
A Reel Freedom Films production. Produced by Shelly Prevost. Directed, edited by Shelly Prevost.
With: Sylvia Guerrero, Dr. C.J. Pascoe, Michael Thompson, Chris Lamiero, Tony Serra, Pearl Serrano, Jaime Ray, Prof. Barrie Thorn, Peggy Poggio.
A 2002 Northern California murder case that brought national attention to violence against transsexuals, as Matthew Shepard's killing did to gay-bashing, is the focus of Shelly Prevost's "Trained in the Ways of Men." Straightforward docu examines public attitudes toward gender blur in the context of its worst-case scenario, in which "trans panic" led to the brutal killing of 17-year-old Gwen Araujo. Gay fest, pubcast and educational exposure are signaled.
Willowy, model-pretty Gwen, nee Eddie, started cross-dressing at 14. She was partying one night at a Newark, Calif., residence with four young men and one woman when the latter forcibly "examined" the intact male genitalia; hysterical collective reaction triggered Gwen's prolonged bludgeoning and strangulation. Claiming "heat of passion," the accused male assailants sought manslaughter convictions. After a mistrial, a second trial finally delivered justice, albeit limited by perception of "sexual deception as provocation," as if killing a transgendered person were somewhat understandable. Celebrated liberal attorney Tony Serra sadly makes a rather grotesque impression among other lawyers, relatives and scholarly interviewees. Newscast and courtroom footage fill out workmanlike assembly.
Camera (color, video), Heidi Verlaine, Prevost; music, Lars Hidde. Reviewed on DVD, San Francisco, March 15, 2007. (In Cinequest Film Festival.) Running time: 97 MIN.
Steve Palopoli, Metro
Trained in the Ways of Men
(U.S.; 92 min.) Shelly Prevost's documentary about the brutal killing of transgendered teen Gwen Araujo in Newark walks the line between true-crime grit and educational queer-positivism. It's an approach fraught with disaster potential—lighthearted on-the-street interviews about gender identification could come off as inappropriate, while ghastly details about the murder might have seemed too sensationalistic. But Prevost's earnestness is beyond reproach—this is a heartfelt and moving film that takes the crucial first step toward healing society's transphobic ills. Of course, the first step is always the hardest, and a huge part of the audience that needs to see this film may be uncomfortable with the questions it raises.
"...anyone who can open their mind enough to walk into it will walk out with their worldview challenged and changed"